In this section...
---
Statistics on the American IT workforce
Having a highly-skilled IT workforce is crucial to America's economic future, to ensuring our national security, and to maintain our leadership in the world research and development community. In order to assess that workforce, it is crucial that we understand the number of science and engineering degrees granted to American students annually.
One of the best resources for demographics on STEM graduates in the US is available from the National Science Foundation. Although figures typically are a couple of years away from real-time, the NSF cuts the statistics through a variety of demographic, specialization, institutional, and degree categories to give a very detailed look at new graduates.
The Bureau of Labor Statistics is another valuable source for IT workforce data. They offer both current numbers and forecasts for computing and engineering jobs as well as predictions for jobs in computer-related fields. A CRA graphic of these predictions is available in the right column.
The flagship publication of CRA is the annual Taulbee Survey, which tracks information on the enrollment, production, and employment of Ph.D.s in computer science and computer engineering and in providing salary and demographic data for CS and CE faculty in North America. In particular, the Taulbee survey examines where new CS&CE Ph.D.s go for employment and overall statistics on Ph.D. production and graduate enrollment.
---
Twenty-first century education for an IT-qualified workforce
As the figures on the right clearly show, it is vital that Americans in school today are sufficiently prepared with the skills they need to become tomorrow's IT workers, researchers, and entrepreneurs.
Links to issues related to education of tomorrow's IT leaders:
A significant effort must be made to ensure that girls and women are attracted to CS professions. The Taulbee survey has data on women earning CS/CE degrees and the percentage of CS/CE faculty that are female. The work of CRA's Committee on the Status of Women in Computing Research (CRA-W) has been significant in increasing female participation in the computer science and education workforce. CRA-W has produced a variety of publications of interest to women in computer research as well as a broader audience.
In addition, CRA is part of the Coalition to Diversify Computing, which seeks to especially encourage traditionally under-represented populations to join computing research fields.
---
Media coverage of offshoring and other IT workforce issues
Globalization presents a wide variety of opportunities and challenges to the computing research community. While we benefit from the ability to work more collaboratively with colleagues around the world, there is considerable uncertainty about what role American-based CS and CE researchers will play in the next fifty years of computing.
Some resources about offshoring and the American IT workforce:
---
Frequently Asked Questions
Is America producing enough information technology workers to fill the needs of the coming decade?

That is a subject of substantial debate. Certainly, the needs of IT employers are changing, so the particular skills needed by IT workers are in a constant state of flux. Certainly, we should avoid overproducing workers with particular skill sets; that is why it is critical that IT workers can adapt to a variety of situations and learn new skills as they become necessary.

Information on annual STEM graduates is available from the National Science Foundation.

What is the unemployment rate for IT workers?

Traditionally, IT workers have historically enjoyed far lower rates of unemployment than American workers in general. According to InformationWeek, in the quarter ending March 31, 2005, IT workers were unemployed at an annualized rate of 3.7%, comparing favorably with a national seasonally-adjusted unemployment rate of about 5.1%.

What IT specialties are predicted to be in demand?

John Sargent wrote an article for the Computing Research News that evaluates the best available data and finds that demand for IT jobs is likely to increase by about 3.1% for each year until 2012, one of the highest growth projections of any occupational sector. This graphic (right column) shows the different projected demands in a variety of IT occupations. Other graphics are available in a PowerPoint presentation Dr. Sargent gave to the Computing Research Association entitled "The Adequacy of the US S&E Workforce: A Quantitative Perspective."

How much do IT workers earn?

IT workers are, as a group, one of the highest paid fields in the country, with a mean annual salary of around $66,000. The Bureau of Labor Statistics produces frequent reports on wages in computer and mathematical occupations. Actual wages depend on a variety of factors, including education, region, experience, and area(s) of expertise.

What degrees do IT workers have?

IT workers have a variety of educational backgrounds ranging from high school diplomas plus vocational training to doctorates in computer science, computer engineering, and related fields. The jobs with the highest growth projections require at least a bachelor's degree.

What are H-1B visas, and how do they affect IT?

H-1B visas are issued to temporary, non-permanent foreigners to allow highly skilled foreign citizens to work for up to six years in the United States in fields in which there is a shortage of American citizens. H-1B visa holders must be paid wages comparable to their American counterparts and are limited to work for a particular employer. CompeteAmerica has a good fact sheet on H-1B programs.

The H-1B program has received criticism from some in the community. Norman Matloff lays out (pdf) some of the arguments against the program.

How many foreign citizens are in the IT workforce?

It is difficult to say, and it is important to remember that many foreign-born IT workers become American citizens or permanent residents. According to the journal Science, about a quarter of the US computing and mathematics workforce is foreign-born, a percentage that is increasing, especially among doctorate-level scientists. However, according to NSF statistics from 1999, about 3.36 percent of the American science and technology workforce is made up of non-US citizens.
Useful Graphs and Charts
---

Distribution of Projected S&E Job Openings, 2006-2016
Enlarge - Image in PDF (63k)
---

All CS degrees granted, 1966-2006
Enlarge
---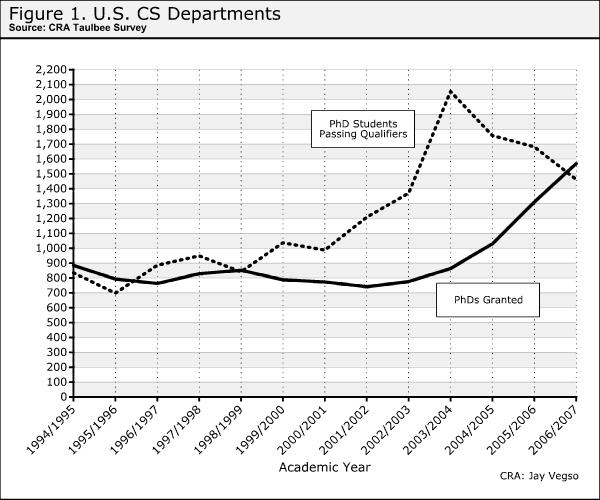 CS Ph.D.s granted, 1994-2007
Enlarge - Image in PDF (101k)
---

Degrees granted and job openings in broad S&E fields, 2006-2016
Enlarge
---

CS, CE, and overall S&T degrees granted to women, 1984-2007
Enlarge
---

Actual, Projected IT job predictions, 2006-2016
Enlarge - Image in PDF (84k)
---

Computing Is Where the Jobs Are
Enlarge - Image in PDF (84k)
---